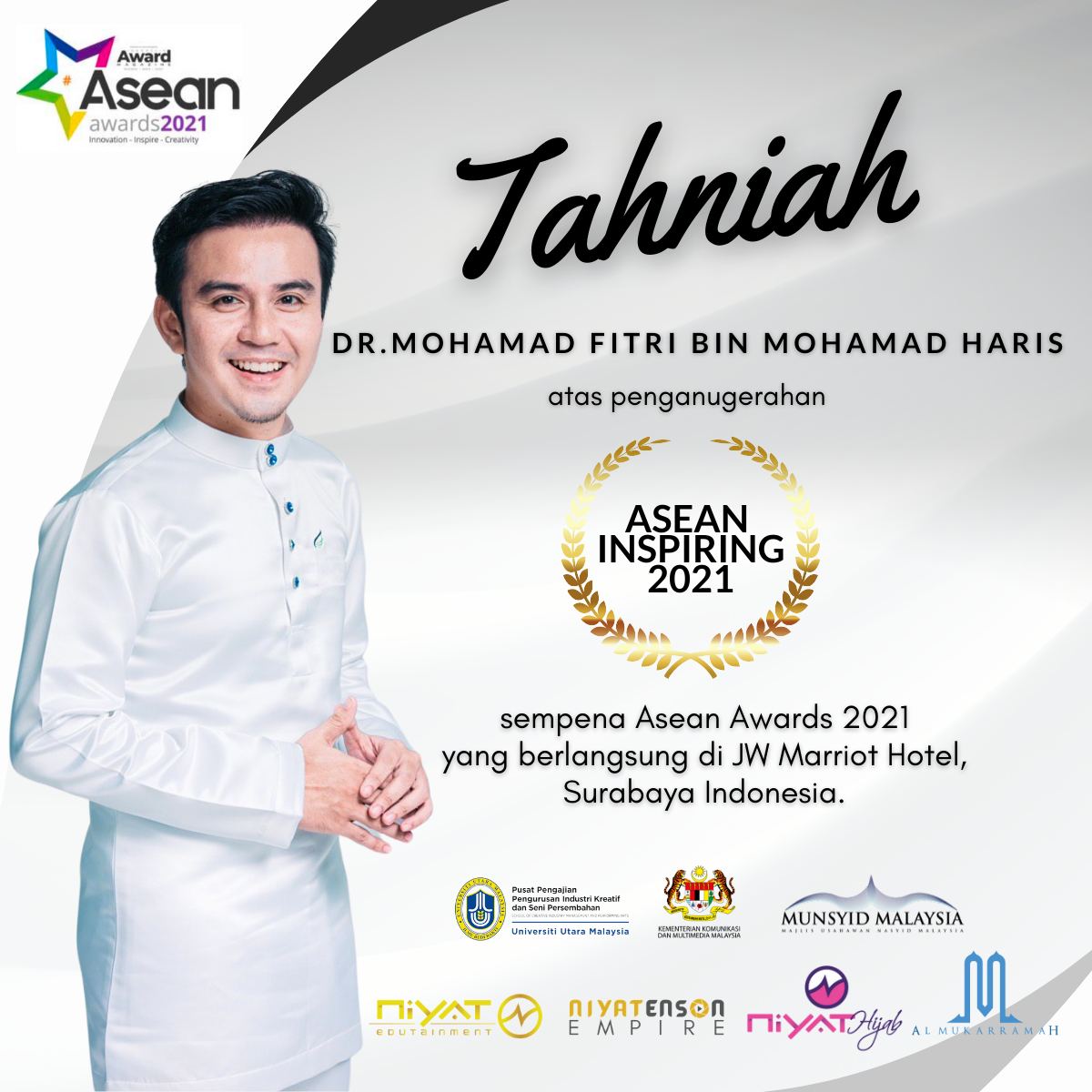 On 19 March at 8.00pm Malaysia time, Dr. Fitri Haris, Gema Gegar Vaganza Season 2 champion, senior lecturer in UUM and a former nasyid artist of UNIC received a special award in conjuction with ASEAN AWARDS 2021 which took place at JW Marriot Hotel in Surabaya, Indonesia.
He received the ASEAN INSPIRING 2021 award category with regard to INNOVATION, INSPIRE and CREATIVITY. Dr. Fitri Haris was selected by the panel of jury from Indonesia Awards Center due to excellence in his career as an artiste, academician and entrepreneur during Covid-19 pandemic period.
For INNOVATION, the judging panel agreed that the research entitled 'This is Nasyid' conducted by Dr. Fitri for 7 years since 2013 is a new reference material as a legacy of knowledge that can be used not only across the ASEAN but internationally especially in the fields of education and cultural tourism. Moreover, the research module has been introduced in United Kingdom, Egypt, Indonesia and Malaysia in particular and supported by the Ministry of Communications and Multimedia Malaysia.
FOR INSPIRE, the jury assessed Dr. Fitri in the context of his credibilities in three areas namely entrepreneurship, artiste and academician. His assistance in running the boutique of Al Mukarramah to his activeness in producing new songs and at the same time being a senior lecturer in UUM are truly commendable. He is the only academician in Asia with a Ph.D degree in Islamic Music and listed among the 5 academicians in the world with a specialisation in Islamic Music.
For CREATIVITY, Dr. Fitri Haris has managed to carry out his business and share the benefits of knowledge creatively. He is easily accepted by the community through 'education and entertainment'.
The events manager represented by Luna Sofea contacted Dr. Fitri Haris to attend the event to receive this prestigious award in the form of trophy of excellence, certificate and consolation of the winner. However, the constraints of the Covid-19 pandemic made it difficult for Dr. Fitri to be present. Hence, this award was received by a representative specially appointed on behalf of him which is the president of IRAMA, Mr. Ayob.
FUTURE PLANS – INTERNATIONAL PUBLICATION
Dr. Fitri Haris is currently awaiting response from the Ministry of Communications and Multimedia Malaysia in the pursuit of publishing his books, which is definitely a new level for the academic world in general and music in particular. The comprehensive book which consists of 6 volumes will be be the only book in Malaysia and the world as a source of reference for nasyid music in Malaysia.
He plans to establish and expand the empire of Islamic education and entertainment in the future worldwide.